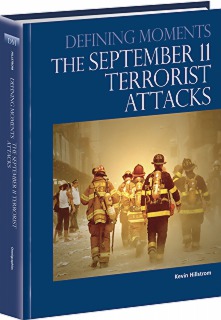 The September 11 Terrorist Attacks
Author/Editor: Kevin Hillstrom
Binding: Library binding
Trim Size: 7 1/4 x 9 1/4
Page Count: 268
Book Level:
Publication Date: 2012
ISBN: 978-0-7808-1240-6
List Price:

$60.00
Web Price:
$54.00
On the morning of September 11, 2001, many Americans didn't know very much about Osama bin Laden, Islamic fundamentalism, or the al-Qaeda terrorist network. That would soon change, beginning at 8:45 a.m., when American Airlines Flight 11 crashed into the North Tower of the World Trade Center in New York City. The events of that day changed American foreign and domestic policy and world history forever.
Defining Moments: The September 11 Terrorist Attacks presents an authoritative account of the origins of the terrorist plot and its aftermath. It also explores the event's lasting impact on America's political and cultural landscape. The volume is organized into three distinct sections—Narrative Overview, Biographies, and Primary Sources—which offer a one-stop resource for student research.
The Narrative Overview section provides a detailed, factual account of what led up to the September 11 attacks, the events and issues during that time, and its legacy in American society
The Biographies section presents valuable biographical background on leading figures associated with the events
The Primary Sources section collects a wide variety of pertinent primary source materials from the era, including official documents, song lyrics, memoirs, editorials, and other important works
Other notable features include a glossary of important people, places, and terms; a detailed chronology featuring page references to relevant sections of the narrative; an annotated listing of selected sources for further study; an extensive general bibliography; and a subject index.
Standard Features
Library binding, 7 1/4 x 9 1/4
240 pages
30-40 photographs and other illustrations
Narrative Overview section: Provides a detailed, factual account of the "defining moment"
Biographies section: Presents valuable biographical background on leading figures associated with the event
Primary Sources section: Collects a wide variety of pertinent primary source materials from the era
Research Topics: Proposes a list of topics suitable for conducting historical research and writing reports, a valuable starting point for student research
Source Attribution: Contains references for primary sources and other quoted material that guide users to other historical research resources
Glossary of Important People, Places, and Terms: Gives brief definitions for the many terms used in the book
Chronology: Highlights the related events in chronological order, along with "see" references that direct the reader to pages in the narrative with additional information
Sources for Further Study: Provides annotated citations for selected sources that are most useful to students
Bibliography: Lists books, periodicals, web sites, and videos consulted in preparing the volume
Subject Index: Includes people, places, organizations, events, and other topics
Research Topics
Each volume in the Defining Moments series covers a wide range of topics that students can use as starting points for further research. Potential research topics for Defining Moments: The September 11 Terrorist Attacks are below:
Explore the ways in which Israel's relationship with its Arab neighbors contributed to the rise of radical Islamic movements in the Middle East
Define the social and political factors that enabled Osama bin Laden to build his al-Qaeda terrorist network into an organization with cells operating around the world
Discuss the importance of Ayman al-Zawahiri and other Islamic radicals in pushing terrorist activities that directly contradicted teachings of the Koran
Track the key points in the development of the September 11 terrorist plot
Compare and contrast the counterterrorism policies of the Clinton and Bush administrations
Explicate the reasons why the United States failed to uncover and derail the plot before it could be carried out, with special emphasis on failures within the FBI and CIA
Summarize the challenges that the 9/11 Commission confronted in its investigation of the September 11 attacks and America's failure to stop them
Explore how America's clashes with Iraqi dictator Saddam Hussein in 1991 and 2003 have influenced the trajectory of U.S. counterterrorism efforts
Evaluate the impact of 9/11 on Americans' attitudes about their country and the wider world
Reviews
"[A] well-written, objective examination. … Many of today's secondary students have only distant memories of the attacks, and this book, written with the perspective that time allows, does a fine job of placing the attacks into the larger context of Islamic terrorism and world politics and explaining how they forever changed the United States and its relationship with Islam. … [It will] draw readers who want to understand the continuing struggle between Islam and the West, making it a good choice for most collections."
—School Library Journal, Dec '12
"Part of a series on key turning points in American history and culture, this volume on the terrorist attacks of September 11, 2001 provides a large collection of reference material appropriate for senior level high school and undergraduate students working in American history, international policy, and cultural studies disciplines."
—Reference and Research Book News, Aug '12
"This work provides good contextual background and is recommended for high school students and lower-division undergraduates studying this epochal event, its historical background, and controversial aftermath."
—ARBAonline, 2012