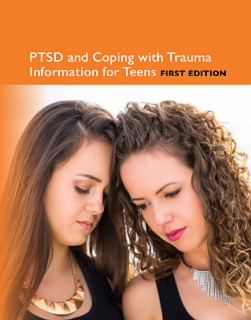 PTSD and Coping with Trauma Information for Teens, 1st Ed.
Author/Editor: Angela L. Williams
Binding: Library binding
Trim Size: 7 ¼ x 9 ¼
Page Count: 400
Publication Date: Dec 2019
ISBN: 978-0-7808-1768-5
List Price:

$71.00
Order Online for 10% Savings.
Post-traumatic stress disorder (PTSD) is a mental illness that is developed after any traumatic event, such as war, rape, childhood abuse, accident, natural disaster, personal tragedy, or violence. Based on diagnostic interview data from the National Comorbidity Survey Adolescent Supplement (NCS-A), it is estimated that 5 percent of adolescents had PTSD and 1.5 percent had a severe impairment. It is found that the prevalence of PTSD was higher in females (8%) than in males (2.3%) among adolescents. Hence, coping with trauma and the steps that one should take to overcome PTSD is necessary.
PTSD and Coping with Trauma Information for Teens, First Edition provides updated information about the overview of PTSD and its causes. It describes about the brain and mental health. This book examines the prevalence of PTSD in teens, and the populations at risk of PTSD. Information about different types of trauma—adverse experiences, childhood abuse, physical abuse, sexual abuse, emotional, and psychological abuse—is provided. The impact of PTSD and recovery are also discussed in this book. The symptoms and co-occurring conditions of PTSD, along with its treatment, are also covered in this book. A directory of resources provides additional help for people who have undergone trauma and PTSD.
The book is divided into parts and chapters where parts focus on broad areas of interest and chapters are devoted to single topics within a part.
Part One: Posttraumatic Stress Disorder: An Overview describes about PTSD and its causes. Brain and mental health along with information about trauma, prevalence of PTSD in children and adolescents are also covered.
Part Two: Trauma and Its Types discusses about the different types of trauma, such as childhood abuse, emotional and psychological abuse, sibling abuse, and sexual abuse, including child pornography, teen dating violence, cyber bullying.
Part Three: Impact of PTSD and Its Responses provides information about the trauma reminders, anniversaries, and triggers. It explains about effects of PTSD on family, in addition to recovery from rape and sexual trauma.
Part Four:  Populations at Risk discusses about the populations at risk of developing PTSD such as homeless youth, LGBTQ+ teens, and children and teens of military veteran families. Trauma in teens with developmental disabilities is also highlighted.
Part Five: Symptoms and Co-occurring Conditions with PTSD provide information about symptoms of PTSD. It also elaborates on chronic pain, sleep disorders, anger with PTSD.
Part Six:  Diagnosis and Treatment of PTSD explains about the diagnosis and treatment of PTSD. Therapies such as psychotherapy, Play Therapy, trauma-focused cognitive behavioral therapy are also discussed. It also provides information about the medications for PTSD together with self-help strategies.
Part Seven: Additional Help and Information includes additional information and a directory of organizations to provide more information for people who have undergone trauma and PTSD.
Standard Features
Library binding, 7 ¼ x 9 ¼
400 pages per volume
Includes online access
Authoritative content from respected health organizations; non-technical language and writing style is accessible to young people
Chapter headings and subheadings break up descriptive text and provide easy navigation
Standardized callout boxes highlight important information, define terms, or summarize a chapter's contents
Tables, charts, and illustrations provide visual aids for technical information and supplement explanations
Directory of resources with contact information guide further research and identify sources of information and support
Comprehensive index provides easy access to descriptive information, definitions, and related concepts