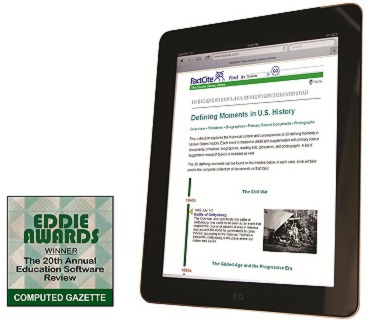 Defining Moments Online
Author/Editor: Omnigraphics
Binding:
Trim Size:
Page Count:
Book Level:
Publication Date: Annual Subscription
ISBN: 978-0-7808-1369-4
List Price:

$279.00
Web Price:
$249.00
Give your students simultaneous access to every volume in the Defining Moments series while they are in the library, the classroom, at home, and on the move with Defining Moments Online.
Defining Moments Online adds the ease of searching across every volume in the series and the opportunity to browse topics with an interactive timeline to all of the features that make each Defining Moments print volume so valuable for assignments. Students will appreciate the extensive linking, expanded resources for further research, and other online-only features that will aid in their comprehension and the identification of main points.
Defining Moments Online also features:
Unlimited simultaneous access in your institution
Unlimited simultaneous access for your students and patrons from home
Compatibility with PCs, Macs, tablets, and smart phones
Authentication by IP range
Technical support provided on behalf of Omnigraphics from the Lincoln Library Press
Special Offer
Purchase 5 or more Defining Moments volumes and receive a free 1-year subscription to Defining Moments Online (a $249 value). No promo code required. Discount will appear in your cart at checkout.
30-Day Free Trial
Click here to request a free 30 day trial.
Standard Features
Defining Moments Online includes the following features:
The full text of all 30 volumes in the print series, with new titles added as they are published
An interactive timeline to all of the features that make each Defining Moments print volume so valuable for assignments
The ease of searching across every volume in the series
The ability to browse topics covered in the database
Extensive linking between pages
Expanded resources for further research
Other online-only features that aid in comprehension and the identification of main points
Reviews
"The content is allowed to shine in this product and I could see my students and teachers utilizing this product in several different ways. It could definitely be a supplement to an American history class as well as a resource for students to use when researching independently. I would say that students as young as grade 5 or 6 might be able to use the product and that the database can also be used for initial research by students in grades 11 or 12. The price point for this product is also quite easy to fit into a budget. … In sum, Defining Moments is a useful new entry into the online resource marketplace."
—VOYA: Voice of Youth Advocates, April, '17
"Exceedingly easy to search. Topics are discoverable via a keyword search, from an alphabetical list (Civil War: Gettysburg to Zoot Suit Riots), or a timeline (1804-2011). Once a topic like Gilded Age is selected, researchers can click on a variety of sublinks: Topics in Depth, Timeline, Topic Spotlights, Primary Sources, Biography, Glossary of People, Places, and Terms, Research Topics, and Resources. Each of these sublinks connects to further sources of information. … Information is thorough and will make history come alive for students. Features that will be most captivating for educators and students are the primary source documents. Important documents, journal entries, memoirs, and speeches bring the account to life. An abstract before the primary source content will provide an engaging overview for students. Secondly, the Glossary of Peoples, Places and Terms shows students the relationships during that era and clarifies wording. The Research Topics and Resources sections will provide teachers and students with extended subject ideas and further avenues for classroom investigation. … Both easily navigated and richly engaging for middle school and high school students. Lesson plans and teaching information make this invaluable for history teachers. Recommended."
—ARBAOnline, Nov '16