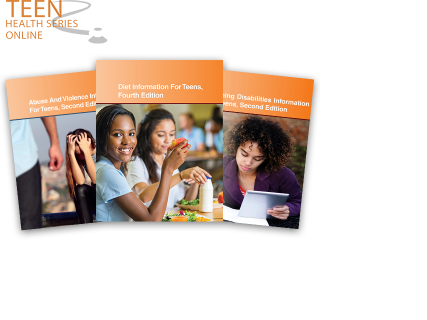 Teen Health Series Online
Author/Editor:
Binding:
Trim Size: Online
Page Count:
Book Level:
Publication Date: Annual Access
ISBN: 978-0-7808-1671-8
List Price:

$559.00
Web Price:
$499.00
The Teen Health Series is a specially focused set of volumes within Omnigraphics' Health Reference Series. Each volume deals comprehensively with a topic selected according to the needs and interests of people in middle school and high school. Teens seeking preventive guidance, information about disease warning signs, medical statistics, and risk factors for health problems will find answers to their questions in the Teen Health Series.
This leading resource for librarians, teachers, and students provides basic medical information that is authoritative, well-organized, and easy-to use. Teens and other users will find the volumes to be excellent resources for reference, research, and personal information.
Teen Health Series Online delivers ongoing online-only access to all current and future publications in the series, allowing users to access these valuable resources however and whenever they want on multiple devices including tablets and smart phones.
Online access also features:
Natural Language Search engine that allows users to search in and across volumes and to take advantage of the suggested searches provided to them based on their own search terms.
Personal accounts for individual users
Handy research tools, including citation generation, highlights and notes creation, saving, downloading, emailing, and sharing on social media
Clean, intuitive interface
"A valuable medical research resource for public libraries and primary or secondary school libraries."
— Library Journal
30-Day Free Trial
Click here to request a free 30 day trial.
Standard Features in Teen Health Series Online
Unlimited users at up to three locations
Remote access from anywhere at any time
Access on any device…desktop, laptop, tablet or smart phone
Individual user accounts for patrons and students
Clean, intuitive interface
Powerful natural-language search
Handy researcher tools including citation generation
Authoritative content from respected government agencies and institutes, university research centers, professional medical associations, and non-profit health organizations.
Comprehensive chapters feature generous use of headings and subheadings for ease of navigation.
Tables, charts, and illustrations display statistical data and supplement explanations.
Helpful glossary provides definitions of technical terms.
Resource directories with contact information highlight organizations that can provide further information and support.
Professionally prepared master index provides easy access to descriptive information, definitions, and related concepts.