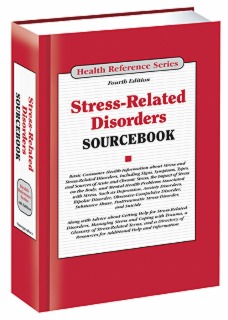 Stress-Related Disorders Sourcebook, 4th Ed.
Author/Editor: Keith Jones
Binding: Library binding
Trim Size: 6 x 9
Page Count: 600
Book Level:
Publication Date: Nov. 2015
ISBN: 978-0-7808-1380-9
List Price:

$95.00
Web Price:
$85.00
Stress erodes sleep quality and mental focus, leaving its victims impatient, irritable, fatigued, and prone to overeating and substance abuse. Prolonged stress adversely affects immune system function and worsens conditions such as chronic pain disorders, diabetes, and heart problems. Mental health disorders, including depression, anxiety, and post-traumatic stress disorder, are also linked to serious problems involving stress. As stress levels in adults rise, so do those in children and adolescents who struggle to cope with worries about family and school.
Stress-Related Disorders Sourcebook, 4th Edition, provides information about the origins and types of stress and describes physical and mental health disorders that may develop during and after stressful situations. Suggestions are included for managing aggressive driving, caregiver stress, occupational stress, and stress related to events such as economic hardship and return from active military duty.
Standard Features
Library binding, 6 x 9
550-650 pages per volume
Easy-to-use volumes organized into parts and chapters
Parts focus on broad areas of interest; chapters focus on single topics within a part
Authoritative content from respected government agencies and institutes, along with selected original material
Comprehensive chapters feature generous use of headings and subheadings for ease of navigation
Tables, charts, and illustrations display statistical data and supplement explanations
Helpful glossary provides definitions of technical terms
Resource directories with contact information highlight organizations that can provide further information and support
Professionally prepared master index provides easy access to descriptive information, definitions, and related concepts