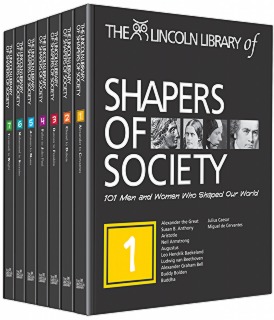 The Lincoln Library of Shapers of Society
Author/Editor: The Lincoln Library Press, Inc.
Binding: Library Binding
Trim Size: 8 1/2 x 10 1/2
Page Count: 7 volumes, 128 pages per volume
Book Level:
Publication Date: 2008
ISBN: 978-0- 912168-23-4
List Price:

$240.00
Web Price:
$199.00
Students completing homework assignments or reading for pleasure will turn to The Lincoln Library of Shapers of Society for its lively narrative biographies of historical figures.
A rich graphical approach encourages students to browse and along the way they will meet some of the most fascinating people in history, including kings and queens, religious leaders, scientists, inventors, engineers, statesmen, generals, activists, reformers, artists, composers, musicians, educators, and philosophers.
Students will find the entries invaluable for projects related to Black History Month, women's history, world history, American history, WWII, ancient civilizations, and more. Each of the 101, expert written entries includes:
Abstract summarizing key facts about the person's life and why he or she is notable
5,000 to 8,000 word narrative biography
Illustrated timeline of events
Memorable quotes
Primary source documents (letters, patent drawings, speeches, etc.)
Suggestions of print and online sources for further study
Shapers of Society entries are designed to motivate and engage striving and advanced readers alike. Large text abstracts, bold callouts, and quotes hook students into the text, while graphic novelstyle illustrations keyed to the text keep them reading. Illustrated timelines place the profiled figures in the context of history.
Available Online
Includes a 1-year license to the online database, providing students with unlimited online access from school or from home.
Reviews
"This set should prove popular with student researchers in upper-elementary, middle, and high school (especially struggling readers or English-language learners). Recommended for school and public library collections."
—Booklist