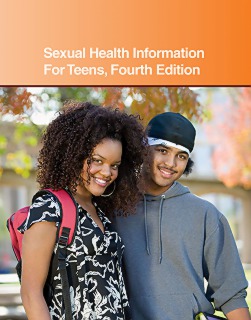 Sexual Health Information for Teens, 4th Ed.
Author/Editor: Keith Jones
Binding: Library binding
Trim Size: 7 1/4 x 9 1/4
Page Count: 400
Book Level:
Publication Date: Jan. 2016
ISBN: 978-0-7808-1385-4
List Price:

$69.00
Web Price:
$62.00
As teens mature and prepare for adulthood, they face many academic and social challenges, while also dealing with developing bodies, sexual pressures from peers, and alluring media messages. Regardless of whether, or when, teens choose to enter sexual relationships, they need accurate information about how their choices can affect their health and well being.
Sexual Health Information for Teens, 4th Edition, provides facts about the sexual issues teens face, including the physical and emotional changes that accompany puberty and emerging sexuality; and the risks of unplanned pregnancies and sexually transmitted diseases.
This book is divided into parts and chapters. Parts focus on broad areas of interest; chapters are devoted to single topics within a part.
Part One: What To Expect As You Enter Puberty explains that confusing time in life when a person's body becomes sexually mature—a process known as puberty. It talks about male and female hormones, describes the specific changes that affect boys and girls in different ways, and provides facts about the mental changes and mood swings that often accompany puberty's physical transformations. It also discusses about healthy relationships and issues related to emerging sexuality, such as body image, gender identity, and sexual attraction.
Part Two: Protecting Your Sexual Health includes information about factors that can impact a teen's sexual health, both in the short term and the long term. It discusses sexual choices and behaviors (including the physical and emotional risks of sexual activity) and provides facts about current sexual choices among teens. In addition, it includes chapters on sexual abuse and avoiding sexual predators.
Part Three: For Girls Only begins with an anatomical review of the female reproductive system. It addresses concerns girls often have about breast development, douching, and routine gynecological care. It also offers facts about female medical issues, including vaginal infections, polycystic ovary syndrome, and endometriosis.
Part Four: For Guys Only begins with an anatomical review of the male reproductive system. It addresses concerns boys often have about circumcision and other related concerns. It also includes information about a variety of male medical issues, including testicular cancer, peyronie disease and epididymitis.
Part Five: Teen Pregnancy offers facts about teen pregnancy and pregnancy prevention programs, including abstinence-based programs. It explains different kinds of contraceptives and how to use them correctly. It also provides information on their reliability and whether or not they protect against sexually transmitted diseases.
Part Six: Sexually Transmitted Diseases includes information about chlamydia, gonorrhea, herpes, hepatitis, syphilis, HIV/AIDS, and other diseases that are spread by sexual contact. It describes how different types of infections are transmitted, the steps that can be taken to avoid them, symptoms that may accompany infection, available treatments, and the long-term consequences associated with untreated infections and diseases for which no cure currently exists.
Part Seven: If You Need More Information offers a directory of resources for support and information and an index.
Standard Features
Library binding, 7 ¼ x 9 ¼
400 pages per volume
Includes online access
Authoritative content from respected health organizations; non-technical language and writing style is accessible to young people
Chapter headings and subheadings break up descriptive text and provide easy navigation
Standardized callout boxes highlight important information, define terms, or summarize a chapter's contents
Tables, charts, and illustrations provide visual aids for technical information and supplement explanations
Directory of resources with contact information guide further research and identify sources of information and support
Comprehensive index provides easy access to descriptive information, definitions, and related concepts