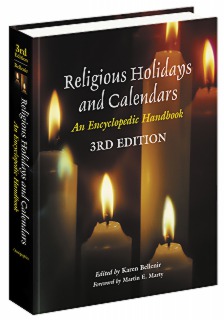 Religious Holidays and Calendars, 3rd Ed.
Author/Editor: Karen Bellenir
Binding: Library binding
Trim Size: 8 1/2 x 11
Page Count: 406
Book Level:
Publication Date: 2004
ISBN: 978-0-7808-0665-8
List Price:

$95.00
$85.00
$59.50
You save $25.50 (30%)!
Religious Holidays and Calendars, 3rd Edition, is a comprehensive, authoritative source of information about the calendars and holidays of the world's religions. It also provides concise information about the beliefs, practices, and history of more than 20 major religions. This edition was developed with the help of nearly 30 religious authorities and members of various religious communities.
Religious Holidays and Calendars offers the researcher—whether student, scholar, or seeker—an overview of the time-keeping and holiday traditions of the world's religions. While other reference works in the field focus on the traditions of a single religion, this volume covers the unique relationship between religious calendars and religious holidays.
The work begins with a discussion of the development of calendars and other methods of timekeeping, then presents chapters on the major religions, each of which includes an overview of the religion, information on its calendar, and descriptions of its holidays. Multiple appendices and indexes further aid the researcher. For a more complete understanding of the coverage offered in Religious Holidays and Calendars, 3rd Edition, please see the Sample Pages.
About the Organization
Material in Religious Holidays and Calendars, 3rd Edition, is organized in three main sections:
The History of Calendars: This section covers basic questions all calendars must answer, the history of lunar and lunisolar calendars, the history of solar calendars, and calendar reform
Calendars and Holidays for Religious Groups: This section presents the following information for each of the more than 20 major religions:
An overview of the religion's history, practices, and beliefs
An explanation of its calendar
Descriptions of its principal religious holidays
Appendices and Indexes: This section includes the following special sections:
Sources for More Information
Bibliography
Chronological List of Holidays
Calendar Index
Holiday Index
Master Index
New Features: This new edition includes the following features:
More than 100 new entries describe holidays not previously covered, for a total of nearly 500 sacred feasts, fasts, festivals, and holidays
New illustrations highlight important symbols, concepts, and places
Information on Christianity has been expanded into three chapters (Roman Catholic and Protestant, Orthodox, and Non-Trinitarian and Non-Traditional) to better accommodate the diversity of practices, liturgical calendars, and holidays
Chapters on Native American and Western African religions are among the many that have been updated and expanded
Reviews
"An authoritative, comprehensive source for information about the holidays and calendars of the world's religions. ... This is an essential reference work on religious holidays and calendars for any library."
—American Reference Books Annual, 2005
"Researchers will appreciate this text for the valuable information on virtually all the major religious holidays. ... Highly recommended."
—Library Media Connection, Dec 2004
"Bellenir's helpful handbook provides an overview of the timekeeping and holiday traditions of the world's religions. ... Summing Up: Recommended. Academic libraries."
—Choice, Sep '04
"All types of libraries would find this a good source of basic information about religions and their holidays."
—Booklist, Aug '04