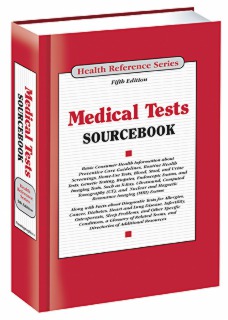 Medical Tests Sourcebook, 5th Ed.
Author/Editor: Keith Jones
Binding: Library binding
Trim Size: 6 x 9
Page Count: 768
Book Level:
Publication Date: Nov. 2015
ISBN: 978-0-7808-1382-3
List Price:

$95.00
Web Price:
$85.00
Informed decisions about health and the treatment of disease are guided by information discovered though medical screening and diagnostic tests. Screening tests identify risk factors for specific disorders, while diagnostic tests find markers of disease or dysfunction. Medical tests assist in diagnosing the causes of symptoms, making treatment decisions, and assessing treatment effectiveness.
Medical Tests Sourcebook, 5th Edition, provides information about screening, diagnostic, and disease-monitoring procedures, including the screening, laboratory, and imaging tests used for specific conditions.
Standard Features
Library binding, 6 x 9
550-650 pages per volume
Easy-to-use volumes organized into parts and chapters
Parts focus on broad areas of interest; chapters focus on single topics within a part
Authoritative content from respected government agencies and institutes, along with selected original material
Comprehensive chapters feature generous use of headings and subheadings for ease of navigation
Tables, charts, and illustrations display statistical data and supplement explanations
Helpful glossary provides definitions of technical terms
Resource directories with contact information highlight organizations that can provide further information and support
Professionally prepared master index provides easy access to descriptive information, definitions, and related concepts