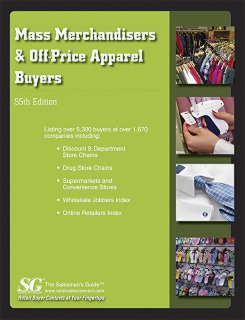 Mass Merchandisers & Off-Price Apparel Buyers, 55th Ed.
Author/Editor: Retail Sales Connect
Binding: Softcover
Trim Size: 8 1/2 x 11
Page Count: 180
Book Level:
Publication Date: July 2017
ISBN: 978-0-7808-1599-5
List Price:

$329.00
Web Price:
$299.00
The Salesman's Guides have been the premier source of valuable information on the dynamic world of retailing for over 50 years. The 55th edition of Mass Merchandisers & Off-Price Buyers lists more than 5,300 buyers and executives for over 1,600 retail firms in the United States and Canada that sell mass merchandise and off-price apparel, footwear, and accessory items, including:
Discount and Department Store Chains
Drug Store Chains
Supermarkets and Convenience Stores
Mass Merchandisers & Off-Price Buyers also includes an alphabetical company index, wholesale jobbers index, and an online retailers index.