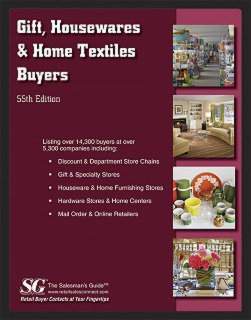 Gift, Housewares & Home Textiles Buyers, 55th Ed.
Author/Editor: Retail Sales Connect
Binding: Softcover
Trim Size: 8 1/2 x 11
Page Count: 412
Book Level:
Publication Date: July 2017
ISBN: 978-0-7808-1598-8
List Price:

$329.00
Web Price:
$299.00
The Salesman's Guides have been the premier source of valuable information on the dynamic world of retailing for over 50 years. The 55th edition of Gift, Housewares & Home Textile Buyers lists more than 14,300 buyers and executives for over 5,300 retail firms in the United States and Canada that sell gifts, housewares and home textile items, including:
Discount and Department Store Chains
Gift and Specialty Stores
Housewares and Home Furnishing Stores
Hardware Stores and Home Centers
Gift, Housewares, and Home Textile Buyers 55th Edition also includes an alphabetical company index, an online retailers index, and a mail order firm and catalog house index.