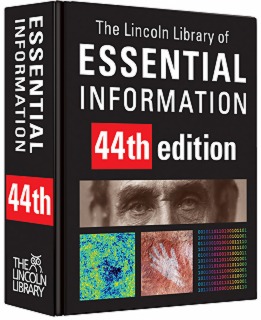 The Lincoln Library of Essential Information, 44th Ed.
Author/Editor: The Lincoln Library Press, Inc.
Binding: Library Binding
Trim Size: 8 1/2 x 10 1/2
Page Count: 2,112
Book Level:
Publication Date: 2012
ISBN: 978-0-912168-22-7
List Price:

$186.00
Web Price:
$149.00
The Lincoln Library of Essential Information has been a trusted reference work since 1924. Millions of users have relied on its authoritative articles to enrich their knowledge of the world and locate essential facts and figures. Now in its 44th edition, it remains one of the most comprehensive sources of research information for today's middle school, high school, and college student.
The easiest way to jump start any research project or satisfy personal curiosity, Essential Information eliminates the frustration of being bombarded by thousands of search engines hits. And while its core articles, written by more than 80 world-renowned experts, provide a quick and comprehensive introduction to the subject, they are complemented by carefully-selected sources for further study (web sites, books, periodicals) that help point the way to more in-depth study.
Essential Information's over 2,000 pages, 1,000 illustrations, and hundreds of articles are organized into these general departments:
Education, Language & Logic
Philosophy & Religion
Literature
Arts, Entertainment & Sports
History
Government
Physical Sciences
Biological Sciences
Social Science
Architecture, Engineering, Business & Law
Available Online
Includes a 1-year license to the online database, providing students with unlimited online access from school or from home, and 20% more content than would fit between the covers.
Reviews
"Editors' Choice"
—Booklist, 2012 Reference
"As multivolume encyclopedias disappear from reference collections, this one-volume encyclopedia of information will continue to be useful in school, public, and academic libraries."
—Booklist
"Truly, anyone who reads and learns from the 2,000-plus pages…will be well-rounded, with a start on becoming a well-educated person… Recommended."
—Choice