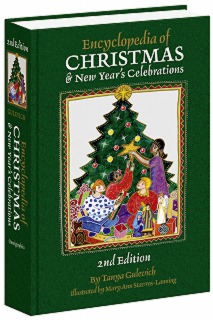 Encyclopedia of Christmas and New Year's Celebrations, 2nd Ed.
Author/Editor: Tanya Gulevich
Binding: Library binding
Trim Size: 6 x 9
Page Count: 1,004
Book Level:
Publication Date: 2003
ISBN: 978-0-7808-0625-2
List Price:

$76.00
$68.00
$47.60
You save $20.40 (30%)!
The second edition of Encyclopedia of Christmas and New Year's Celebrations offers teachers, students, parents, and librarians more than 1,000 pages of information about this joyous holiday season. The first edition, titled Encyclopedia of Christmas, was named an Outstanding Reference Source by the American Library Association. The second edition expands this popular title with new entries on American Christmas traditions, Christmas in other countries, and New Year's celebrations. Numerous existing entries have been updated as well.
This handy reference contains more than 240 entries ranging in length from about 100 words to well over 2,500 words. Topics covered include folk customs and beliefs, religious practices, symbols, legends, mythological and historical figures, foods, beverages, and major artistic and popular works associated with the celebration of Christmas, New Year's Eve, and New Year's Day. For a more complete understanding of the coverage offered in Encyclopedia of Christmas and New Year's Celebrations, please see the Sample Pages.
The following shows just a few of the entries:
Advent
Baboushka
Berchta
Black Peter
Candlemas
Cherry Tree
Christkindel
Epiphany
First Night
Frankincense
Gaudete Sunday
Hogmanay

King Herod
Ivy
Kwanzaa
Magi
Mistletoe
Nativity Scene
Peace of Christmas
Reveillon
Star Boys
Stockings
Yule
Zagmuk
Many entries are devoted to Christmas season celebrations in different countries and parts of the world, including Europe, the Americas, the Middle East, Africa, Asia, and the Pacific. More information on international Christmas customs can be found in the many entries that detail specific holiday traditions, symbols, and legends.
Encyclopedia of Christmas and New Year's Celebrations, 2nd Edition, also includes a bibliography, lists of Christmas web sites and associations, and an index.
Special Features
Contains 247 entries on all facets of Christmas and New Year's arranged in alphabetical order
Traces the history of the holiday back to ancient times and describes its observance in countries spanning six continents
Encyclopedia format allows the user to locate information quickly, or to browse
Diverse range of material offers the reader the opportunity to gain a new appreciation of the breadth and depth of this ancient holiday
Suitable for a general audience, including students and teachers, as well as interested adults
Contains essays on topics from ancient times to the present day: how ancient celebrations bequeathed their customs to Christmas; how Christmas customs, legends, symbols, and foods blossomed in medieval and Renaissance Europe; the decline of Christmas following the Protestant Reformation; its resurgence in the Victorian Era; the continuing evolution of the holiday in recent years, including the development of more recent symbols and customs like Santa Clause, the Christmas tree, the Christmas gift, and other modern customs
Covers Christmas celebrations in other countries, including those in Europe, Asia, Middle East, African and Latin America
Special attention to historical coverage of Christmas in the United States, with information on f how American slaves celebrated Christmas; how Christmas is celebrated in the White House; favorite Christmas movies and television specials; and more
Four additional sections supplement the Encyclopedia: Bibliography, Web Sites, Associations, and Index
Reviews
"Librarians everywhere can breathe a sigh of relief—the encyclopedia to answer all of those Christmas questions is finally here."
—School Library Journal
"[This] volume is a worthy addition to the cultural reference shelf. Well researched and appealingly illustrated with black-and-white sketches, the text outlines holiday customs in easy-to-read language. ... School and public libraries will want to add this to their collections."
—Booklist, Sep '03
"This encyclopedic work is useful for those schools where folklore is covered, or for those interested in origins of the holidays."
—Library Media Connection, Nov '03