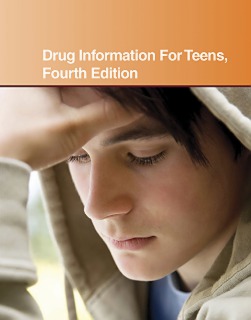 Drug Information for Teens, 4th Ed.
Author/Editor: Keith Jones
Binding: Library binding
Trim Size: 7 1/4 x 9 1/4
Page Count: 400
Book Level:
Publication Date: Jan. 2016
ISBN: 978-0-7808-1358-8
List Price:

$69.00
Web Price:
$62.00
Drug Information For Teens, 4th Edition, offers comprehensive information about drug use, abuse, and addiction. It describes the physical and psychological effects of drugs and chemicals that are commonly abused, includes information about drug-related health concerns, and describes the types of treatment available. The book also offers a directory of resources for further help and information.
This book is divided into parts and chapters. Parts focus on broad areas of interest; chapters are devoted to single topics within a part.
 Part One: General Information About Addiction and Substance Abuse defines substance abuse and addiction, explains why people get addicted and how drugs affect brain chemistry. In addition, it presents information on preventing drug abuse; the social aspects of drugs, including peer pressure; statistics on teen drug use; and the Drug Enforcement Administration's Controlled Substances Act, which categorizes drugs according to their legal status, medicinal qualities, and harmful effects.
Part Two: Alcohol presents facts about the use and abuse of alcohol, and addiction in teens and their family members. It also discusses alcohol poisoning, statistics on alcohol consumption, and related health concerns.
Part Three: Tobacco, Nicotine, And E-Cigarettes presents facts on several forms of tobacco use, including cigarettes, cigars, pipes, smokeless tobacco, and secondhand smoke. Health risks associated with smoking are discussed. Information on the how to quit and the benefits of quitting is also included.
Part Four: Marijuana includes facts about marijuana, marijuana abuse among teens, and associated health effects including mental illness, and changes in brain chemistry. Information about medical marijuana and the legal debate over its use is included.
Part Five: Abuse Of Legally Available Substances includes facts about the abuse of prescription and over-the-counter medications, including commonly abused pain relievers, depressants, stimulants, and cold and cough medicines. Information about other legally available substances—such as inhalants, steroids and sports supplements, and caffeine—is also included.
Part Six: Abuse Of Illegal Substances offers basic information about some of the most commonly abused illegal substances, including ecstasy, ketamine, and other club drugs; LSD, PCP, and other hallucinogens; methamphetamine, cocaine, and other stimulants; heroin and other opiates; bath salts and Salvia divinorum.
Part Seven: Other Drug-Related Health Concerns covers some important topics that are associated with drug use but not necessarily related to the direct effects of the substances themselves. These include mental illness and suicide risks associated with drugs, risky sexual behavior, the spread of infectious diseases via drug paraphernalia, violence due to drug abuse, and drugged driving.
Part Eight: Treatment For Addiction discusses how to deal with addiction, the principles of treatment, the various types of treatment, and the process of recovery. It offers encouragement for those teens who need to seek help themselves and provides tips for helping friends and their loved ones who may have a substance abuse problem.
Part Nine: If You Need More Information includes a directory of national organizations able to provide drug-related information and a directory of places able to provide support services, including hotline and helpline phone numbers. A state-by-state list of referral services will help readers find local information, and a chapter of additional reading presents lists of books, magazines and journals, and Web pages that can be used as a starting point for further research.
Standard Features
Library binding, 7 ¼ x 9 ¼
400 pages per volume
Includes online access
Authoritative content from respected health organizations; non-technical language and writing style is accessible to young people
Chapter headings and subheadings break up descriptive text and provide easy navigation
Standardized callout boxes highlight important information, define terms, or summarize a chapter's contents
Tables, charts, and illustrations provide visual aids for technical information and supplement explanations
Directory of resources with contact information guide further research and identify sources of information and support
Comprehensive index provides easy access to descriptive information, definitions, and related concepts