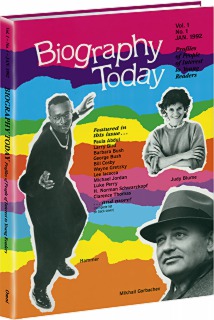 1992 Annual Cumulation
Author/Editor: Laurie Lanzen Harris
Binding: Library binding
Trim Size: 6 x 9
Page Count: 498
Book Level:
Publication Date: 1993
ISBN: 978-1-55888-139-6
List Price:

$73.00
$66.00
$33.00
You save $33.00 (50%)!
Biography Today features collected biographies that are written especially for young readers ages nine and above, in a format they can enjoy reading and readily understand.
The Biography Today Annual Cumulation is a single hardbound volume that compiles 30 or more biographical profiles published during the year in the softbound subscription. Each volume includes alphabetically arranged entries that are visually interesting, with easy-to-read typefaces, photographs of individuals profiled, and highlighted quotations. Bold-faced rubrics lead the reader to information on each individual's birth, youth, education, first jobs, career highlights, marriage and family, hobbies, and honors and awards. Each profile ends with a list of easily accessible print and online sources designed to lead the student to further reading on the individual, as well as a current mailing address. For a more complete understanding of the coverage offered in Biography Today, please see the Sample Pages.
Each issue features contemporary people from a mix of professions, so readers of all backgrounds and interests will find material that will intrigue and challenge them. In Biography Today, they'll find the people they want to read about right now.
Individuals Profiled in 1992
Paula Abdul
Andre Agassi
Kirstie Alley
Terry Anderson
Roseanne Arnold
Isaac Asimov
James Baker
Charles Barkley
Larry Bird
Judy Blume
Berke Breathed
Garth Brooks
Barbara Bush
George Bush
Fidel Castro
Bill Clinton
Bill Cosby
Diana, Princess of Wales
Shannen Doherty
Elizabeth Dole
David Duke
Gloria Estefan
Mikhail Gorbachev
Steffi Graf
Wayne Gretzky
Matt Groening
Alex Haley
Hammer
Martin Handford
Stephen Hawking
Hulk Hogan
Saddam Hussein
Lee Iacocca
Bo Jackson
Mae Jemison
Peter Jennings
Steven Jobs
Pope John Paul II
Magic Johnson
Michael Jordon
Jackie Joyner-Kersee
Spike Lee
Mario Lemieux
Madeleine L'Engle
Jay Leno
Yo-Yo Ma
Nelson Mandela
Wynton Marsalis
Thurgood Marshall
Ann Martin
Barbara McClintock
Emily Arnold McCully
Antonia Novello
Sandra Day O'Connor
Rosa Parks
Jane Pauley
H. Ross Perot
Luke Perry
Scottie Pippen
Colin Powell
Jason Priestley
Queen Latifah
Yitzhak Rabin
Sally Ride
Pete Rose
Nolan Ryan
H. Norman Schwarzkopf
Jerry Seinfeld
Dr. Seuss
Gloria Steinem
Clarence Thomas
Chris Van Allsburg
Cynthia Voigt
Bill Watterson
Robin Williams
Oprah Winfrey
Kristi Yamaguchi
Boris Yeltsin
Standard Features in the Annual Cumulation
Library binding, hardcover, 6 x 9
Each volume includes 30 or more biographical profiles
Articles include photos and pull-quotes to enliven the page
Biographies presented in an easy-to-understand, consistent, and enjoyable format
Boldface headings trace the individual's life from birth through career milestones, creating an outline for students:

Birth
Youth
Education
First Jobs
Career Highlights
Marriage and Family
Hobbies and Other Interests
Honors and Awards
Further Reading (print and online sources)
Address and Web Site

Each volume features three different indexes, and all are cumulative:

General Index that includes names, subjects, occupations, organizations, and ethnic & minority origins
Places of Birth Index
Birthday Index
Reviews
Reviews of Recent Titles in the Biography Today Series
"This publication offers young adults in-depth profiles of personalities, many suggested by librarians and teachers. The showcased individuals represent politics, sports, entertainment, science, and business. ... The articles extensively use quotes from the personalities and those close to them as well as personal stories that give more than bare biographical statistics. Readers come away from the articles feeling like they have shared a comfortable conversation with the celebrity profiled."
—ARBAonline, 2012
"The series is presented in a clear and highly accessible manner. ... As long as teachers continue to require biographical reports, this series will have a place in school libraries."
—VOYA: Voice of Youth Advocates, June '11
"Middle and high school libraries will find this series a useful addition to their libraries, as the people profiled here are of interest to this age group and often topics of research."
—American Reference Books Annual, 2012
"[This edition] of this highly respected series meets the high criteria set by earlier editions, staples in juvenile reference collections across the country. ... The writing is clear and unambiguous, obviously geared to its target audience. This latest version of the highly respected set does not disappoint the researcher. This work is highly recommended for juvenile reference collections."
—American Reference Books Annual, 2007
"The best value for collective biographies is still Omnigraphics' Biography Today."
—NJEA Review, May '02
"Highly recommended for the young adult audience. Readers will delight in the accessible, energetic, tell-all style; teachers, librarians, and parents will welcome the clever format, intelligent and informative text. It should prove especially useful in motivating reluctant readers or literate nonreaders."
—MultiCultural Review
Early Reviews of Biography Today
"Biography Today is an excellent way of putting the talents, struggles, and dreams of influential persons in perspective for youngsters looking for national role models."
—Curriculum Review, May '93
"Written in a friendly, almost chatty tone, the profiles offer quick, objective information. ... While coverage of current figures makes Biography Today a useful reference tool, an appealing format and wide scope make it a fun resource to browse."
—School Library Journal, Feb '93
"The choice of celebrities profiled and the tone taken in the essays make Biography Today particularly appropriate for young readers."
—American Reference Books Annual, 1993
"Current Biography for kids—that's the easiest way to describe Biography Today. ...  Biography Today offers school and public libraries a positive alternative to People's gossipy glimpses of celebrities in the news."
—Wilson Library Bulletin, Dec '92
"Biography Today will be useful in elementary and middle school libraries and in public library children's collections where there is a need for biographies of current personalities. High schools serving reluctant readers may also want to consider a subscription."
—Booklist, June '92